Romantic and elegant candlelight dining can be arranged with the proprietor in the privacy of the Great Room. Enjoy your anniversary evening, a romantic honeymoon rendevous or a private meal with many personal touches such as flowers, white linen and wine service. We will help you arrange and celebrate any special occassion dinner in front of the the warmth and glow of a romantic fire, flickering in the Great Room.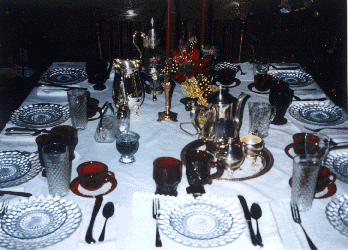 EI KAFFESTOVE

NORSK HUS INN
121 North Duluth
Thief River Falls, MN 56701

(Open For Registered Overnight Guests and by Reservation Only)

Dining Room

Lunsj
Lunch
11:30-1:00

Klodtbord
*Norwegian-style Open Faced Sandwiches*
(ost-cheese, svinekotelette-ham, biff-beef)
Suppe (soup)

Dessert
12:30pm-3:30pm and 7:30pm-8:30pm
Dessert Med Kaffee (dessert with coffee)
$5.00 per person

Middag Dinner
Friday and Saturday Evenings
$14.95 per person

One of these main courses will be offered:

*Biff* (beef)
*Svinekotelett* (ham)
*Kjottkaker* (meat balls)
*Kyllingbryst* (chicken breast)
*Torsk* (fish)

*(All meals served with gronnsaker (vegetables), brun (gravy), potat (potatoes), salat (salad), suppe (soup), en softkake med kaffee (cake with coffee)*





--------------------------------------------------------------------------------

Norwegian Dining Facts

If you visit Norway and treat your palette to lunch or dinner in a Norwegain restaurant, you will see some Norske table manners that are very interesting. For example, Nordmenn keep both hands on the table and in action. Even smorbrod are eaten with kniv og gaffel, kniven in the right hand and gaffelen in the left. You will find that Nordmenn eat more slowly than Amerikanere. In Norge, it is customary to say to the host, "Takk for maten", thanks for the food, after maltider, to which the response is "Vel bekomme"! Frokost+breakfast...a substantial cold buffet (koltbord) with eggs, meats, cheeses, breads and coffee. Lunsj=lunch...predominately open faced sandwhiches (smorbord) Middag=dinner...meal available at the traditional dinner hour.

For your elegant dining pleasure, reservations are taken for Friday and Saturday evenings. Hours are 7:00-9:00pm.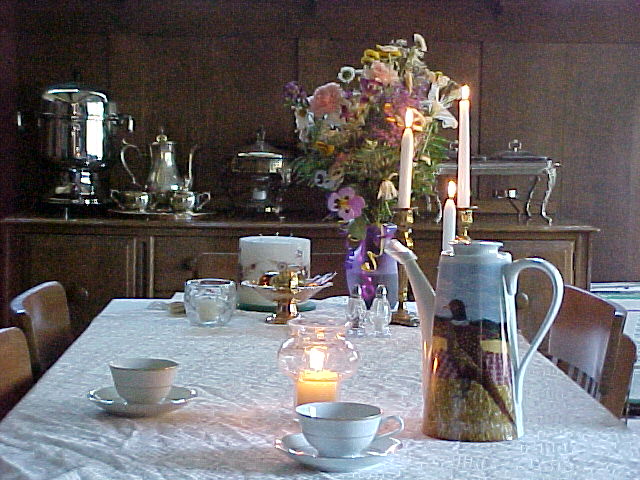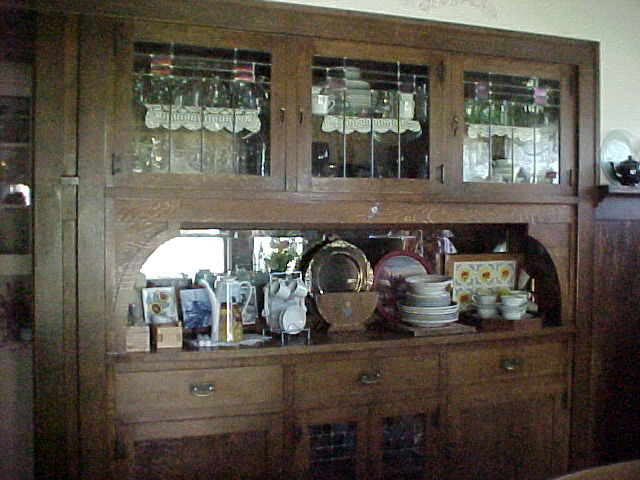 Back yard barbecues are available for registered guests. We have a lovely terrace, a back porch and a sunporch for indoor eating. Let us prepare a T-bone steak with all of the trimmings while you enjoy the evening in the gardens.
Ask the proprietor for current prices.